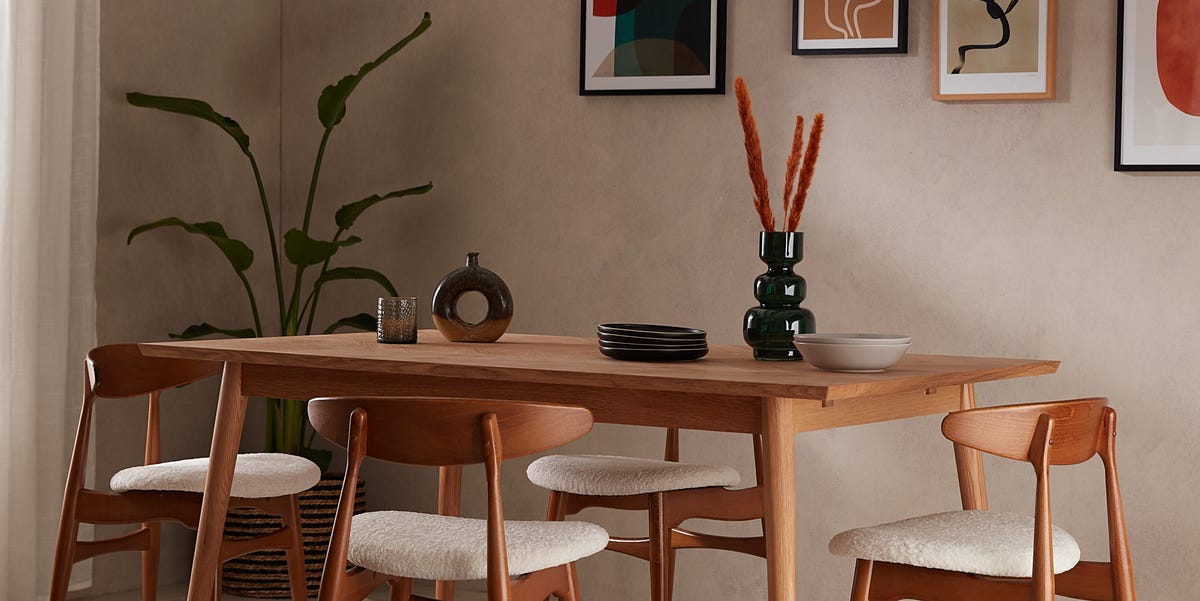 13 Ways to Achieve a Vintage Aesthetic in Your Home
When you think of the 60s and 70s, what comes to mind? The Beatles, Woodstock, Mad Men, Fleetwood Mac, flares? How about rich dark wood, patterned wallpaper and simple yet bold shapes.
If you look at current interior trends, there's no denying that vintage aesthetics are making a comeback. The functional wooden designs, clean curved lines, and muted tones synonymous with mid-century design are seen throughout. In fact, in a recent survey of 600 decorators, 26% of respondents said they had witnessed a resurgence in iconic mid-century design and interiors.
The instantly recognizable colors and prints found in 1960s and 1970s interiors are also growing in popularity. Together you get a wonderfully retro look – enough to make you want to dig up your vinyl records.
"The 60s and 70s were all about expressing yourself," says the Irish designer Orla Kiely"and where is better to express yourself than where you hang out every day."
Keep reading to discover Orla's top three tips for incorporating 60s and 70s trends into a modern interior. Plus, check out our top picks for creating a vintage aesthetic in your home.
Play with color
"When you think mid-century, you think of wood tones, bright colors and bold patterns. A fun way to add pops of color to your home is to choose on-trend accessories," says Orla. bold cushions, interchangeable headboards and fabrics such as curtains can be interchanged to allow you to refresh your rooms quickly and easily.
Bring in the outside
Orla says, "Mid-century design celebrated all that was natural, with floral patterns giving a pop-art touch. I suggest using a large scale pattern as the dominant shape, followed by using medium or smaller scale patterns for accents. This creates the contrast that mid-century interiors are known for.
Layer textures, colors and patterns
"The 1960s and 1970s introduced a whole new range of synthetic textures and fabrics," says Orla. "A 1970s house would be filled to the brim with tactile materials such as shag rugs and macrame. To create this effect in your bedroom, use complementary colors and patterns, change up your bed linens, throw pillows, and curtains or blinds to create depth without your layers looking clashing or disorganized.
1
Vintage Aesthetic – The Mid-Century Side Table
Round oak side table Talia brown
housebeautiful.co.uk
£169.00
This solid oak side table nods to mid-century design with its curved edges and deep wood tones. It is an understated piece that will add character to any room.
2
Vintage Aesthetics – The Record Cabinet
Ronda Vintage Style Wardrobe
Your record collection just had a new home with this vintage-inspired cabinet. There's plenty of room for vinyl records, as well as plenty of surface space for your record player.
3
Vintage Aesthetics – Ceramics from the 70s
70s Hornsea Pottery Storage Jar
There aren't many more seventies than Hornsea Pottery's signature ceramics. Now collectibles, their quirky line of cookware is truly vintage and can be purchased on Etsy, either individually or in sets.
4
Vintage Aesthetics – Retro Cushions
Flower Tile Cushion
These eye-catching cushions are inspired by the floral tiles of Porto. Shades of kingfisher blue and moss green combine with cream for an earthy contrast.
5
Vintage Aesthetic – The Mid-Century Coffee Table
Brutus coffee table with storage
Crafted from solid wood with an oak veneer, this eye-catching coffee table strikes a clean-lined silhouette for a modern twist on mid-century style.
6
Vintage Aesthetic – 60s Print
Greater Splash Exhibition Poster
£19.99
The 1960s art scene wouldn't be what it is without David Hockney. This exhibition poster is the perfect way to add some 60s magic to your walls.
seven
Vintage Aesthetics – The Mid-Century Armchair
Quinn armchair in gray
housebeautiful.co.uk
£556.00
Rich wood, fine linen upholstery – this chair matches the mid-century modern trend. Pair it with an equally understated side table for the perfect place to listen to your records.
8
Vintage aesthetic – The retro wallpaper
Groovy, Baby Wallpaper
A funky nod to groovy 1960s and 70s wallpaper, this colorful design features layers of rounded shapes in sunset pink, dark purple and orange.
9
Vintage Aesthetic – The Mid-Century Wardrobe
Ledger Sliding Cabinet
This is a sturdy cabinet that nods to the clean lines and dark woods of mid-century modern design. The doors slide smoothly from side to side, which is great if you're tight on space.
ten
Vintage Aesthetic – The Mid-Century Dining Chairs
Set of 2 anise dining room chairs
madaboutmidcenturymodern.com
£137.73
An elegant pair of two wooden dining chairs, each with a leather seat. We love the curved silhouette of the backrest, as well as the dark, moody finish.
11
Vintage Aesthetic – The Statement Curtains
Grommet curtains lined with multiple rods
Bring color to any room with these bold patterned ready made curtains. The graphic print is both retro and modern.
12
Vintage Aesthetic – The Abstract Print
Mid Century Garden Framed Art Print
Eastern prints
John Lewis and Partners
£36.00
A modern take on retro art, this bold framed print was created by professional graphic designer Ana Rut Bre. Already framed, it is ready to hang on your wall whenever you want.
13
Vintage Aesthetic – The Retro Alarm Clock
KIKKERLAND Retro alarm clock
The color, the shape, the numbers, it's like stepping back in time. This retro alarm clock is a wonderfully kitschy addition to your bedside table.
This content is created and maintained by a third party, and uploaded to this page to help users provide their email addresses. You may be able to find more information about this and similar content on piano.io