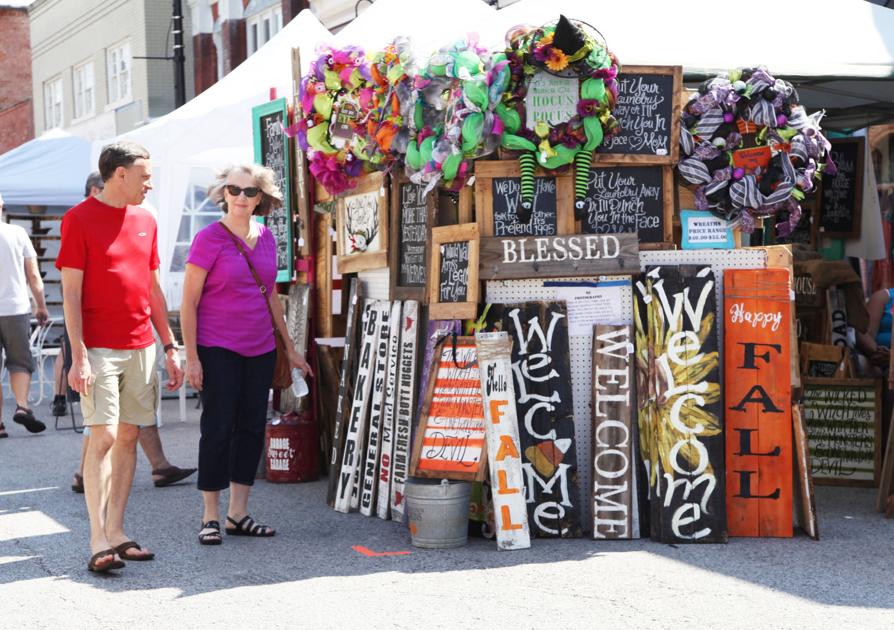 Art, Craft Festival Downtown – This weekend | Washington
[ad_1]
Thousands of people are expected to attend the Fall Festival of the Arts & Crafts this weekend in downtown Washington.
Arts and crafts, live music, games for children and a large food court will be in the spotlight from Friday evening to Sunday.
In the past, a chili bake was held on Friday night to kick off the fall festival. The Chili Cook-Off has been moved to Friday, October 26, in hopes of cooler weather.
So now, for the first time, the artisans will be installed on Friday.
"We're excited about the change and plan to have around 60 artisans," said Cassidy Lowery, events and promotions specialist for Downtown Washington Inc., which sponsors the festival.
"Some of the farmers market vendors will also be participating this year and our downtown merchants will be offering extended hours and specials," she said.
All activities will take place in and around the Main Street and Elm Street parking lot.
The Fall Festival will take place on Friday, from 5 p.m. to 8 p.m. Saturday from 10 a.m. to 6 p.m. and Sunday, from 10 a.m. to 4 p.m.
Lowery said she would expect between 10,000 and 15,000 people over the three days if the weather is nice.
"Right now there is rain in the forecast, but we hope that will change," she said.
Craftsmen and their handicrafts will line Main and Elm streets.
Items offered for sale include custom Longhorn skulls and sculptures, paintings, woodworking, jewelry, photographs, candles, clothing, seasonal decorations, pottery, children's accessories and reused furniture.
Lowery said most of the artisans are from Missouri, including some locally, and about half are new to the event.
The Lions Club, Washington Coffee Shop, and Sugarfire Smoke House will all have stalls in the food court, and new this year will be a Florida food vendor featuring fresh seafood.
Visitors can feast on funnel cakes, pork burgers, barbecue, fried pickles, freshly squeezed lemonade, and smoothies, among others.
Lowery said live music will be presented throughout the weekend.
Entertainment programming kicks off with Dave Bennett on Friday from 5 p.m. to 8 p.m. On Saturday, Solo Richie will perform from 10:30 a.m. to 1:30 p.m. followed by Stillapickin from 2 p.m. to 6 p.m.
The Washington Brass Band will play from 12:30 p.m. to 3:30 p.m. Sunday to close the festival.
Additionally, there will be a kids' area with activities and games for children to participate in, including Tinkerbell the Baby T-Rex, an indoor jungle gym, and pony rides.
Once again this year, a Charming Chairs and Home Decor booth will be set up on Elm Street as a fundraiser for the continued historic preservation of the downtown area.
Some furniture is currently on display in the windows of downtown stores.
There will also be "buy-and-take" items, such as blankets, washcloths and panels, which can be bought and taken away immediately.
[ad_2]