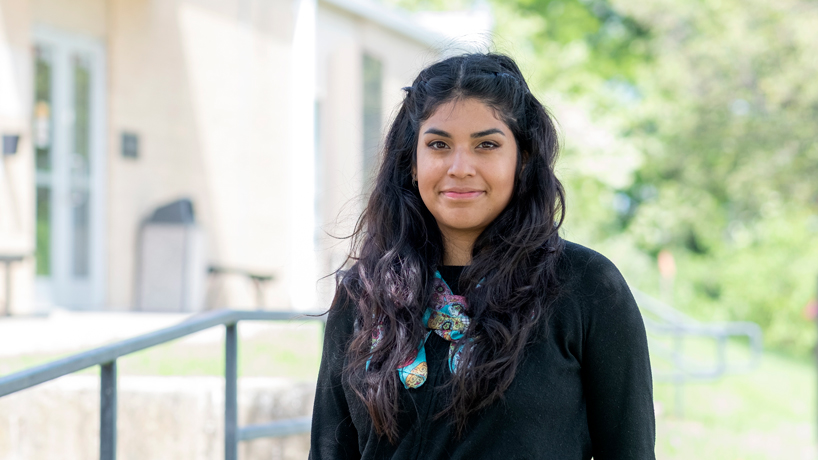 Arts Education Graduates Unlock Potential at University of Missouri-St. Louis
[ad_1]
Shellby Brannam had just realized she loved the classroom. Maribel Ramirez-Bohenkamp led and taught courses at Pinot's Palette after graduating from high school.
They may never have crossed paths.
But then Jennifer fisher, assistant professor and coordinator of artistic education at the University of Missouri – St. Louis, intervened. She drew the two women to UMSL and put them on a trajectory that saw them work together to produce an edition of Show Me ART, a biannual publication of the Missouri Arts Education Association.
BFA graduate Brannam and Teach in 12 certificate graduate Ramirez-Bohenkamp completed their art education studies this semester and will go to the Richer World for working together on the publication. This could only have happened at UMSL.
The magazine is a professional color publication that is mailed to art educators statewide, and Brannam was in the right place at the right time when the Missouri Art Education Association searched for a publisher. She was attending the organization's fall 2019 conference when a few board members were discussing the vacancy for the coming year.
They were looking for a member of the organization who was familiar with the layout to take charge of the project. Brannam had been a designer for her high school newspaper and was familiar with Adobe Illustrator and InDesign, so she decided to volunteer for the position.
"I was like, 'I think I can put one more thing on my already full plate,'" she recalls, laughing.
Introducing gradual change to the magazine was one of Brannam's goals after taking over as editor. To this end, she offered to feature the personal artwork of the educators on the covers. The suggestion received a positive response from MAEA President Hester Menier and board members.
"A lot of times educators are so focused on our students, which is amazing, but we never find a way for us to continue working on our art or showcasing our art," Brannam said. "I wanted to give this opportunity back to educators. "
The first issue produced by Brannam featured Ramirez-Bohenkamp's work on the cover, though she wasn't sure it would when she agreed to contribute.
"It was a huge surprise for me even to participate in the magazine," said Ramirez-Bohenkamp. "I had just finished a live art show called Wall Ball 2020 hosted by Artscope in St. Louis, and after that Shellby contacted me and asked if I wanted to be featured in the magazine, which I did. accepted. I didn't necessarily think it would be the cover and broadcast on my work, but it was a very pleasant surprise.
The cover art is derived from one of Ramirez-Bohenkamp's acrylic paintings on canvas. It represents a sugar skull with its own twist. She noted sugar skulls – decorations and designs used in Mexican Day of the dead celebrations – are traditionally very colorful, while hers uses a more subdued color scheme with bluish grays, deep reds and white details. The piece also includes floral elements, specifically the dahlia flower and the monarch butterfly.
Ramirez-Bohenkamp's work is often inspired by his Mexican-American heritage and his connection to his family. It has been a significant bond with family members who reside about an eight-hour drive in Kansas.
"When I do these plays, things from my childhood, I try to keep my identity alive here in Missouri," she said. "I'm not as exposed to my own Mexican culture in this area as I did where I'm from in Kansas. It's about making those connections and working through that, moving to a different place and trying to build and create something with your family in mind.
The answer to the question was quite positive.
"I got so many compliments from past editors, our president and educators in Missouri, reaching out and saying, 'Sounds amazing, I can't believe what you did,' Brannam said. "It made me really proud."
Editing the first issue was a steep learning curve, but Brannam was grateful for the experience. She felt the same during her stay at Lucas Crossing Elementary School in Normandy, Missouri, where she completed her final teaching internship.
"I had the incredible opportunity that a lot of people don't have in their internship," said Brannam. "I flourished as an art teacher myself. I accepted this full time position while teaching my student there. Another student and I were hired in Normandy because they really needed people to fill these roles. I saw it as a very big challenge to build as a person.
This is an atypical arrangement for a student teaching placement – one Brannam has likened to being "pushed into the depths". But it gave her the opportunity to develop her own curriculum and helped her develop quickly as a teacher.
The other challenge Brannam had to face – aside from teaching students without the guidance of a more experienced educator – was the cultural shift from the rural area where she grew up to a more urban environment.
"It was completely different culturally, racially, different from anything I've ever experienced," she said. "It taught me to be a better person. It opened my eyes to how you can be a bridge, even though you have to find that middle ground in a different way than you're used to.
Brannam began building a bridge by introducing his students to a number of contemporary African American artists and then focused on the work of Kehinde Wiley, known for his paintings of African-American subjects in poses mimicking the classical portrait traditions of Europe. The students were tasked with creating their own portraits in the style of Wiley, which resulted in full participation – a significant achievement. She also worked to include things like graffiti and multimedia elements in her lessons.
After graduation, Brannam will continue to work at Lucas Crossing, and Ramirez-Bohenkamp proactively contacts schools and fills out applications. However, both graduates have other goals beyond teaching.
They each plan to pursue a master's degree and work on establishing non-profit arts organizations. Brannam was interested in the study of educational psychology or art history, and Ramirez-Bohenkamp opted for arts education. They still conceptualize their nonprofits, but Brannam wants to help survivors of sexual assault through art. Ramirez-Bohenkamp hopes to create a space for community-driven art.
Whatever their future plans, graduates know that UMSL has pushed their capacities as artists and educators.
"It was a difficult but very rewarding time," said Ramirez-Bohenkamp. "I learned so much about my own artistic practices, as well as applying my skills to arts education. There were times when I felt overwhelmed by the curriculum and the criteria, but it made me see clearly what it takes to be a teacher. It is not an easy job, otherwise more people would like to do it. Even though I went through a lot of obstacles financially and academically, I pushed myself beyond what I thought was my potential. The UMSL was able to shed light on it for me.

Short url: https://blogs.umsl.edu/news/?p=85044
[ad_2]