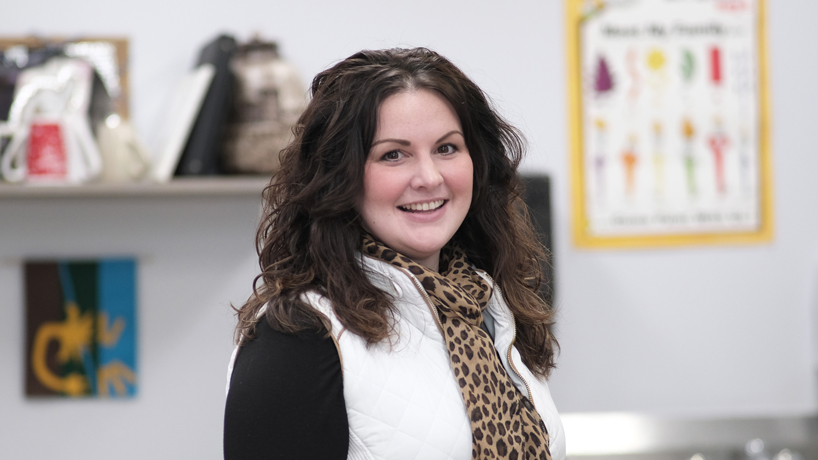 Jennifer Fisher Wins National Art Education Association Award – UMSL Daily
It was around this time last year that Jennifer Fisher, an assistant professor of arts education at the University of Missouri-St. Louis, learned that she had won the Missouri Art Education Association's Art Educator of the Year award.
Almost a year later, she received another "pleasant surprise," national recognition for her commitment to advancing arts education. Last week, the National Art Education Association named Fisher the 2022 Western Region Higher Education Art Teacher.
"I felt really, really honored because there are so many colleagues of mine – I have friends in New Mexico in the art and Iowa and everywhere – who I think are doing really amazing work. at the college level or in higher education," Fisher said of the distinction. "It was really nice at this point in my career to be recognized for that. It was very fulfilling."
Melanie Robinson, an art teacher at Cedar Springs Elementary, nominated Fisher for the state-level award last year and nominated her for the national award this year. Fisher said she appreciates Robinson's continued support and noted that the Missouri Art Education Association encourages educators who have won at the local or state level to seek national awards.
The annual NAEA Awards recognize exemplary arts educators and quality arts education in the United States and Canada and also help raise awareness of the importance of quality arts education. The NAEA Western Region includes the states and provinces of Arkansas, Illinois, Indiana, Iowa, Kansas, Manitoba, Michigan, Minnesota, Missouri, from Nebraska, New Mexico, North Dakota, Northwest Territories, Ohio, Oklahoma, Saskatchewan, South Dakota, Texas and Wisconsin.
When Fisher travels to New York in March to accept the award, it will be her first time as a recipient at the Higher Education Awards ceremony. She has attended the conference and awards ceremony for the past five years, presenting her work many times.
"It's a wonderful group of people," she said. "It's a very good collaboration of art teachers."
Fisher works to ensure her students have a solid understanding of basic pedagogy, but she also tries to instill the importance of empathy in the classroom. It is a way to build trust with students, which makes teaching much easier and more effective.
Over the past year, she has collaborated with other art educators in Missouri to pursue this goal through a new equity, diversity and inclusion initiative. Abigail Birhanu, a former UMSL art education student and art teacher at Wydown Middle School, first approached Fisher about it, and she was immediately won over by the idea.
The group, which includes teachers from all educational levels, organizes monthly EDI meetings for MAEA members, as well as JEDI brunches – justice, equity, diversity and inclusion.
"A lot of it is trying to bring resources to teachers in Missouri," Fisher said. "It's been such a crazy year for teachers and schools in general. I think for so many people they just needed to reconnect and remember why some of the work that we do in arts education is so important. So for a lot of people it's been a point of contact and discussion and a great cathartic place to come together and have those conversations.
In reflecting on the award, Fisher was especially grateful for the guidance of Maggie Peeno, assistant faculty member in arts education at UMSL and former art professor at Clayton and University City, and her late husband Larry, former artistic director of the Normandy Schools Collaborative and the National Association for Arts Education.
Fisher said she would not be able to receive such a prestigious award without Maggie's mentorship at UMSL.
"She absolutely worked hard to ensure my success at UMSL," Fisher said, "and helped me in so many ways."

Short URL: https://blogs.umsl.edu/news/?p=92168