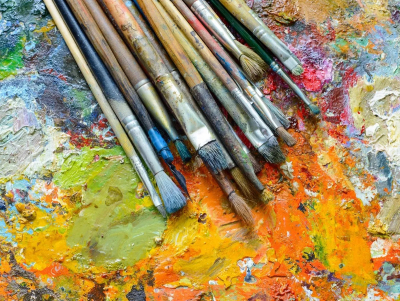 QuickDraw for Art Education
On June 11, fearless artists step in to create for the public eye as guests stroll, sip, and watch the creative process. Under the vaulted ceilings of the Laurel Ridge Country Club, local artists and artisans will create in a live look. The one-hour quick draw features two types of live art: painters racing against the clock to complete their art in 60 minutes and artists demonstrating a technique in paint, clay, metal, jewelry and gluing. Each artist presents an original work of art at auction to support arts education.
The hour-long quickdraw is followed by a social with live music from Craig Summers, a lively art auction, and dinner. Artists donate 50-100% of sales for arts education in schools.
The performance aspect is an attraction for artists, newcomers, collectors and the curious who want to witness the creation of a piece. Artist Sylva Colin Dawson is looking forward to painting alongside other QuickDraw artists, "to see how they work and learn how this type of performance fits into their practice."
Jo Ridge Kelley, artist and gallery owner from Waynesville, said: "Viewers and interested art students can learn a lot by watching the different artists at work. QuickDraw collectors can continue their conversation with friends about how it really happened. It's a win-win. Her daughter, clay artist and jewelry designer, Keri Anna Kelley, said, "I had never seen my mother do a painting from start to finish at the same time. QuickDraw makes it exciting and educational.
QuickDraw is a local non-profit organization that promotes arts education by hosting an annual quick draw to raise funds. The event will take place on Saturday, June 11 from 4:30 p.m. to 8:30 p.m. Revenue is the primary source of art supply funds for Haywood County school art teachers because supplies for school art programs are funded locally, not at the state level. Tickets are $95, include dinner and help cover food costs for participating teachers. Tickets are available online or at galleries in downtown Waynesville. For artist and ticket information, visit QuickDrawofWNC.com or call 828-734-5747.
A QuickDraw basket of local goods and services will be raffled off to benefit QuickDraw's mission of art supplies in schools. With a retail value of $1,100, the prize basket includes local culinary treats and gift items, health and wellness gift certificates, hair, massage, handmade jewelry hand and high-tech Maui Jim sunglasses. Buy tickets for the raffle through July 4th at Bosu's Wine Shop in Waynesville.